Soy Biodiesel
Biodiesel is a clean-burning fuel that can be made from U.S. soy oil or other domestic, renewable resources. It offers fuel economy, horsepower and torque similar to petroleum diesel, but with fewer harmful effects on diesel engines, the environment and human health. Since it is made in the United States, soy biodiesel stretches our fossil fuel reserves, decreases our dependence on foreign oil and boosts our nation's economy.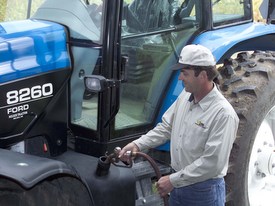 Clean Fuels Alliance America

Clean Fuels Alliance America  (formerly known as the National Biodiesel Board) maintains a comprehensive site with biodiesel information and a refueling locator. Diesel users have more options than ever when it comes to filling up with biodiesel. Many petroleum retailers now make biodiesel available at the filling station. In fact, across the United States, the number of biodiesel retail locations continues to grow. For retail sites, visit the biodiesel retail locator.
Bioheat®
Bioheat® is traditional home heating oil blended with clean-burning, renewable biodiesel. Over the past two decades, the heating oil supply pool has been increasingly cleansed of sulfur and blended with renewable, clean-burning biodiesel to create ultra-low-sulfur Bioheat® Fuel. Commonly delivered to customers today at five- to 20-percent biodiesel blends (B5 to B20), the industry is committed to increasing the blend ratio to avoid future carbon taxation and make heating oil the cleanest, most sustainable residential heat source available on the planet.