Soy Biodiesel
Biodiesel is a clean-burning fuel that can be made from U.S. soy oil or other domestic, renewable resources. It offers fuel economy, horsepower and torque similar to petroleum diesel, but with fewer harmful effects on diesel engines, the environment and human health. Since it is made in the United States, soy biodiesel stretches our fossil fuel reserves, decreases our dependence on foreign oil and boosts our nation's economy.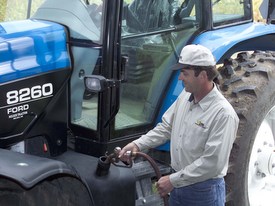 National Biodiesel Board
The National Biodiesel Board maintains a comprehensive site with biodiesel information and a refueling locator. Diesel users have more options than ever when it comes to filling up with biodiesel. Many petroleum retailers now make biodiesel available at the filling station. In fact, across the United States, the number of biodiesel retail locations continues to grow. For retail sites, visit NBB's retail locator.
It's important to use best-management practices to protect your diesel vehicles and equipment.
Learn more about these BMPs for biodiesel management in this guide.
Bioheat®
Bioheat® is traditional home heating oil blended with clean-burning, renewable biodiesel.  In August of 2010, New York City Mayor Michael Bloomberg signed into law an air-quality bill that included a provision to ensure the use of Bioheat® in the city. Starting in October 2012, all heating oil sold within New York City will contain at least 2 percent biodiesel.